HOW TO CAST YOUR VOTE ONLINE
On June 13th, you will receive an invitation email with a link to the ballot.

 

Click the link and make your selections.

 

Submit your vote.

 

You will receive a confirmation email to confirm your vote.

 

Review and confirm your vote by clicking the submit button. Your vote will then be officially counted.

 
VOTE BY PROXY
If you cannot vote online, you may designate NALA staff to cast your proxy vote. We must receive your Designation of Proxy form by July 7, 2023, at 9 AM CT. You can learn more and fill out the form here. 
The following positions are elected by all NALA voting members: vice president, secretary, treasurer, and at large directors. All positions except for the at large director positions are elected for a one-year term and may serve for a maximum of two consecutive terms. At large directors are elected for a two-year term and can serve for a maximum of two consecutive terms. There are two seats open for At Large Director positions.

On June 13, 2023, at 2:00 PM CT, NALA will be hosting a Virtual Candidate Forum. This will be the perfect opportunity to get to know the candidates and ask them questions.  
HOW TO ATTEND: Sign up here. The forum is free to attend, but space is limited, and attendees must register in advance. If you cannot attend this event, do not worry! The forum will be recorded.
2023-2024 BOARD OF DIRECTOR CANDIDATES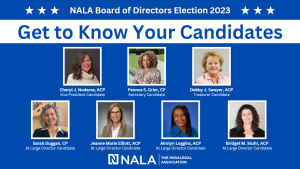 Each candidate for the NALA Board of Directors recorded a video so you could get to know them better. You can watch all seven videos on NALA's YouTube page.  
PROPOSED BYLAW AMENDMENTS
The NALA Board of Directors is recommending, for adoption by the members, various amendments to the NALA Bylaws. 
3.21 (to delete the refund section)

 

4.3(A) (to delete the requirement that directors be actively employed)

 

4.4 (to add the DE&I Chair as a voting member of the Board of Directors)

 

6.2(A) (to delete the requirement that officers be actively employed)

 

12.1(C) and (D) (to change the ability to pass amendments to the Board of Directors)

 

Throughout the bylaws, to change the term from "legal assistant" to "paralegal/legal assistant"

 
To read the current and proposed language for the bylaws listed above, click here. 
If you need further information, this video goes into detail about each proposed amendment, including why it is being proposed and what its impact is expected to be. NALA's President, Vice President, Secretary, and Treasurer come together to discuss the proposed amendments and give clarification to help Active type NALA members make an informed decision when voting opens on June 13th.
The 2023 NALA Annual Meeting will be held on July 12th at the NALA Conference & Expo in Boston, MA. Election results will be announced during this meeting. For more information, visit the 2023 Annual Meeting News page. 
Certifying Board 
The NALA Certifying Board is committed to setting, improving, and evolving the professional certification standards by which paralegals demonstrate exceptional knowledge, skills, and integrity.
Continuing Education Council (CEC)
Plan conference education sessions
Develop, coordinate, and facilitate continuing education programs and certification review courses
Produce Facts & Findings
Diversity, Equity, & Inclusion (DEI)
Further the goals of the Corporation to encourage, support, and maintain high standards in diversity, equity, and inclusion
Monitor diversity, equity, and inclusion trends and issues
Work to address diversity, equity, and inclusion to foster diversity, equity, and inclusion to foster meaningful, open, and constructive dialog throughout the Corporation to celebrate diversity of its members and leaders
Work within the Corporation to celebrate the diversity of its members and leaders
Strengthen diversity, equity, and inclusion initiatives throughout the Corporation
Ethics Committee
This committee shall report any violations of the Code of Ethics adopted by the Corporation to the directors for appropriate action.
Professional Development Committee (PDC)
Maintain Code of Ethics and Professional Responsibility
Maintain Model Standards and Guidelines for Utilization of Paralegals
Provide articles for Facts & Findings
Oversee the research and publishing of the National Utilization and Compensation Survey
Keep up to date on activities affecting the paralegal profession
Oversee the development of professional development courses
Want to become more involved? We have committee volunteer opportunities that contribute to the overall success of NALA.