2022 NALA Conference Keynote Speaker Announced!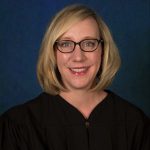 NALA is excited to announce the keynote speaker for the 2022 NALA Conference & Expo in Phoenix, AZ! Join Commissioner Melissa Zabor as she shares the successes of Maricopa County's Therapeutic Courts and the transformations that participants experience through the program.
Melissa Zabor has been a Commissioner with the Maricopa County Superior Court since 2017. She began in the Initial Appearance Court, seeing defendants after their arrest and issuing search warrants; given the volume of cases in the Phoenix area, this court runs 24/7. Presiding over a court that operates 24 hours a day allows for some very interesting cases. She served as the Presiding Commissioner for nearly two years, much of that during the pandemic. She now presides over a criminal calendar, conducting settlement conferences, changes of plea, sentencings, and trials. In July of 2021, Commissioner Zabor also took on several therapeutic courts, including drug court, DUI court, and a women's trauma drug court.
After law school, she first worked as a prosecutor before spending nearly a decade as a public defender. Commissioner Zabor earned her Juris Doctorate in 2004 from the University of Arizona and a Bachelor of Science in Psychology in 2001 from the University of Arizona. Her work supporting the advancement of women in the legal field made Commissioner Zabor an active member of the Arizona Women Lawyers Association and the Maricopa County Bar Association.
As an undergrad, Commissioner Zabor was the Drum Major for the University of Arizona Marching Band. They played the music of Oingo Boingo and brought the house down by lighting the cymbals on fire! She remains a lifelong fan of the arts, live theatre, and most of all, musicals. She loves spending time with her family. In her spare time, she enjoys playing golf, skiing with her family, and reading.
To learn more about the conference and to register, visit https://nala.org/education-5/nala-conference-expo-2/.